January 3, 1921: State Capitol Burns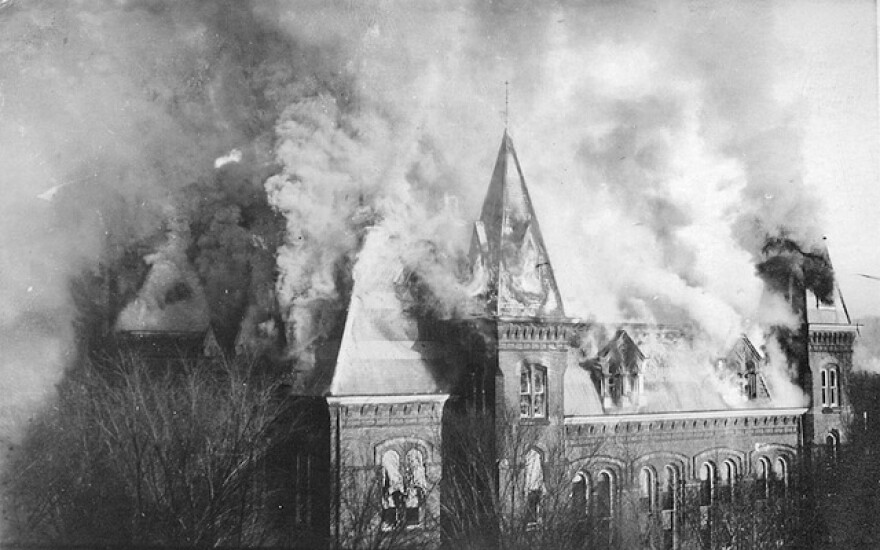 On January 3, 1921, the West Virginia state capitol building in downtown Charleston was destroyed by fire. Originally dedicated in 1885 and completed in 1887, the 85-room Victorian structure was our state's fourth capitol—and the second in Charleston.
Firefighters struggled to put out the blaze due to the intense heat, and rescue efforts were pulled back after one firefighter was killed by a collapsing masonry wall.
After the fire, the work of state government pressed on. The capitol was replaced temporarily by a 166-room wood-frame structure erected nearby in just 42 days. In 1927, it, too, burned. By this time, most of the state's important records had been moved to the new state capitol being built on Charleston's East End. Two Charleston landmarks—The Diamond Department Store and Kanawha Valley Bank building—were built on the site of the destroyed Victorian capitol.
To this day, the cause of the 1921 capitol fire is still uncertain, but prevailing thought blames it on faulty wiring. However, many theories abound, including one that the fire was started by watchmen who knocked over a lantern while shooting dice.