Motion Filed to Remove Justice Jenkins from Upcoming Natural Gas Case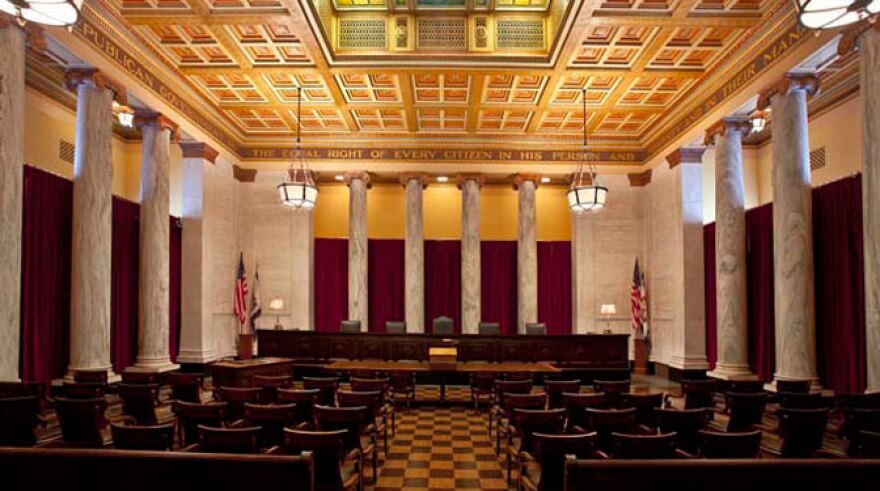 This story was updated at 11:15 a.m. on 10/4/18
Lawyers representing a handful of Harrison County landowners in an upcoming case set to be heard by the West Virginia Supreme Court are asking Justice Jenkins to recuse himself.
In the motion filed Tuesday, attorneys for the landowners argue Jenkins should remove himself from an an upcoming appeals case because of a potential conflict of interest.
"Appellants' Motion to Disqualify is not done lightly and in no way should be viewed as an attach on Justice Jenkins," the document states. "Rather, recusal is required because his counsel, who appeared in this Court barely a week ago as counsel for Justice Jenkins is counsel of record for respondent Antero."
The case, set to be heard Tuesday in front of the high court, centers around a series of nuisance cases brought by landowners who live near oil and gas operations carried out by Antero Resources and Hall Drilling.
The landowners have asked the court to require the companies to alter how they drill to reduce what they describe as near-constant loud noises, truck traffic and odors that are a result of drilling operations.
The companies say state law allows them to do whatever is "reasonably necessary" to extract mineral resources when they own or lease natural gas rights. In October 2016, the West Virginia Mass Litigation Panel, which consists of seven circuit court judges that are appointed by the Chief Justice to resolve cases where many plaintiffs sue one defendant, ruled in favor of Antero and Hall Drilling. The landowners have appealed.
In the petition, the landowners' legal team say the "counsel of record" for defendant Antero Resources, Ancil Ramey, also recently represented Jenkins in a lawsuit that sought to invalidate his interim appointment to the Supreme Court. They argue the connection could pose a conflict of interest.
The lawyers argue the case is ongoing and it remains unknown how involved Jenkins will be with Ramey.
Ramey is a partner at the law firm Steptoe & Johnson, which the motion said has donated thousands of dollars to Jenkins' congressional races since 2014. In the response filed this week, Ramey said he has personally never contributed to any election campaign of Jenkins. He also said neither Steptoe & Johnson PLLC nor its affiliated Steptoe & Johnson Good Government Fund have contributed to Jenkins' campaigns for House of Representatives. He said the fund has not and will not contribute to Jenkins' judicial election campaign or any other judicial campaigns.
The legal team representing Antero Resources filed a response Wednesday pushing back on a motion to remove Justice Evan Jenkins from an upcoming Supreme Court case dealing with natural gas drilling rights.
In the response, Ramey refuted some of the evidence presented by lawyers representing Harrison County landowners including that he is the lead counsel in the upcoming case.
Ramey also said neither he, nor anyone from his law firm Steptoe & Johnson, is currently representing Jenkins "in any matter." He argues his two-week representation of Jenkins in a case that sought to invalidate his interim appointment to the Supreme Court concluded before Jenkins was sworn in and should not disqualify the justice from participating in the upcoming case.
Ramey confirmed he is part of the legal team representing Antero Resources, but in an email, he said his role is "minor" and he will not be conducting the oral arguments for the case.
Jenkins, who served in the U.S. House of Representatives for three years, was sworn in as an interim justice on the bench of the high court on Monday.