Marshall University Aims to be More Inclusive to LGBT Students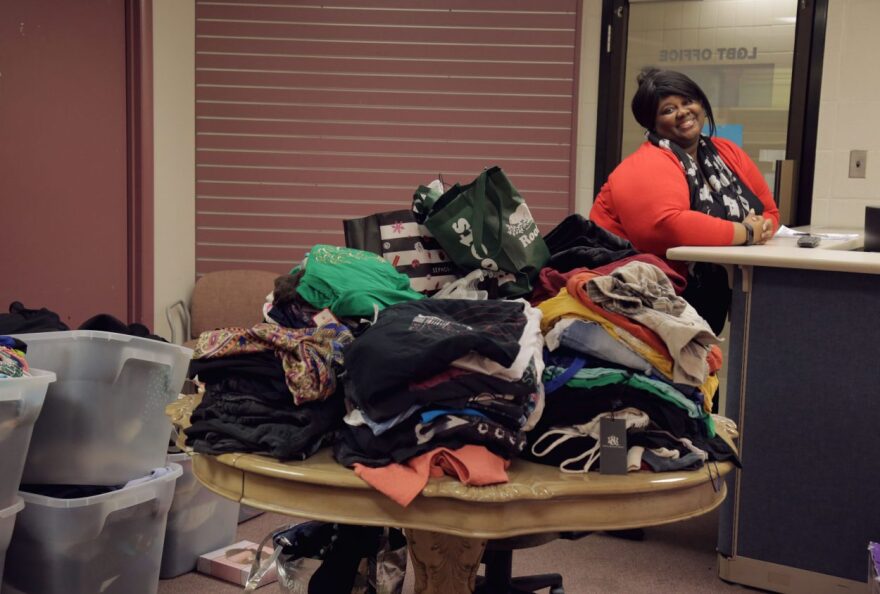 Marshall's LGBTQ+ office is located in a central campus building, down in the small corner of the basement. There's a comfy lounge area, with couches, books and a TV. The students meet here for occasional support group meetings, or just to watch movies and unwind. In a back room, there's a walk-in closet with hundreds of dresses, suits, pants and shoes arranged on hangers and shelves. A full-length mirror hangs on the door.
There isn't a men's or a women's section. And that's intentional. This is called the Trans Closet, the campus free store for students who identify as LGBT—or are questioning their gender or sexual identity.
"When you go in a store, are you getting looked at or judged? No. And they shouldn't either" said Shaunte Polk the director of this office. Polk also leads the Center for African American Students.
And all the items here were donated by students or people in Huntington.
In addition to dresses, pants and shirts, there are necklaces, scarves, shoes, bags, nail polish, swimsuits and sunglasses. "We have everything. If you can dream it, we have it in here," said Polk.
There are other free stores like this in cities and universities across the country, but LGBT advocates in West Virginia believe this is the first of its kind here.
Polk identifies as straight, but she says she's an ally of the LGBT community and a Marshall graduate herself. Through that lens, she can see that the school has come a long way. She remembers what she describes as a culture of discrimination against LGBT people 15 years ago when she was a student here, including stories of gay couples being ridiculed for kissing in public.
"Nobody was really out and proud. Now I see students holding hands students wearing rainbow shirts or pants."
But in 2015, an assault on a couple near Marshall shocked the community. Marshall football standout Steward Butler was accused of hitting and taunting two men after they kissed publicly in downtown Huntington, not far from campus. Butler was a star athlete, recognized across the country as a leading running back in college sports. Marshall dismissed him from the team a day after he was arrested. He was charged with battery and with two felony civil rights violations.
Butler was ordered to serve six months in jail.
The case made its way to the state's Supreme Court. But in a 3-2 vote, the justices ultimately agreed with a lower court to dismiss most serious charges because the state's hate-crime law doesn't cover discrimination based on gender identity or sexual orientation.
Since the 2015 incident, Shaunte Polk's office has expanded its work. It hosted Marshall's first Lavender graduation this spring. Other campuses, like West Virginia University, have similar events to celebrate graduates who identify as LGBT.
The office will also start a support group for transgender students this fall and do another clothing drive for the transgender closet. Last year's was a success.
"It wasn't a bag or two. It was wall to wall clothing. And it just makes me very, very proud to say that West Virginia, Marshall, Huntington, is moving in a great direction," said Polk.
But one Marshall student says there's still work to be done. Jo Gates is a transgender woman going into her junior year. She's from Parkersburg, West Virginia. She didn't start her transition until she came to Huntington.
"I remember in my freshman year I went to go ask the LGBTQ office if they had any information on transgender hormones. They just seemed like they were very misinformed about the process."
Gates said she doesn't blame the office or Marshall. She just wishes they had been able to help answer her questions. Instead, she searched for resources online.
"I know they are taking steps to get better. They're getting more actual queer people to work in the office."
Gates said she also doesn't like that the LGBTQ+ office is located in a basement. "The fact that an office for people is in a basement explains how visible our issues are at school because it's like they're kind of hidden. Literally."
Gates is a journalism major, and for a class, she made a short film about the dorm floor where she lives. It's Marshall's first gender-neutral residence space, a big deal for Gates because all Marshall students are required to live on campus their first two years of school. The chance to live in this dorm, with gender neutral bathrooms, helped make her transition to being a female much less scary.
But this past April, not long after she made the film about how much getting to live in this dorm had meant to her, Gates overheard a remark from a member of the cleaning staff, who walked in while Gates was washing her hands in the bathroom. Gates happened to be wearing very little, mostly just her underwear. She heard the cleaning person talking to another worker in the hall a few minutes later.
"And he kept on saying, 'I just assumed it was a female'. He just kept saying 'I just assumed it.'"
Then Gates heard the other worker explain gender-neutral bathrooms. She pointed to the symbol on the door and said she doesn't like those signs because she doesn't want to run into a transgender student. Gates didn't report what she heard to Marshall, because she says didn't think it would do any good.
West Virginia Public Broadcasting reached out to Marshall University for a comment on Gates' story. In an email, Lekesha Taylor, Associate Director of Residence Life at Marshall, said "It is disheartening to hear that a student had this experience while living with us. We make every effort to be as inclusive as possible and provide our students with a welcoming living environment and experience. This includes providing our staff with education on issues of not only how to be successful in their positions but also in their interactions with the residents we serve."
Aside from this instance, Gates says she hasn't experienced any harassment on campus. She's been taking hormones for nearly a year, and says the transition has been great, that she's happier than she's ever been in her life. She treasures the friends she's made in a support group for transgender men and women. That's organized by the psychology department at Marshall University, not by the LGBTQ+ office.
There, she's heard many different coming out stories, and realizes that her family situation, though not perfect, has been better than others. And even though Parkersburg was more accepting than some places, she wasn't out as trans in high school. Just for the way she looked, she says she suffered emotional abuse as a teen. The worst was the first day of her freshman year.
"It just seemed like there was a memo put out and it was like, 'if you see Jo Gates call this person a faggot.'"
The experience made her tougher.
"Cause it's like God, if you can go to high school and people threatened to kill you, you can survive anything."
This story is part of an episode of Inside Appalachia about issues in our region's lesbian, gay, bisexual and transgender community.