Tune in to West Virginia Public Broadcasting on Tuesday, November 6 for Election Night 2018 coverage on Radio, TV, and online.
Former CEO Who Went to Prison, Don Blankenship, Running for U.S. Senate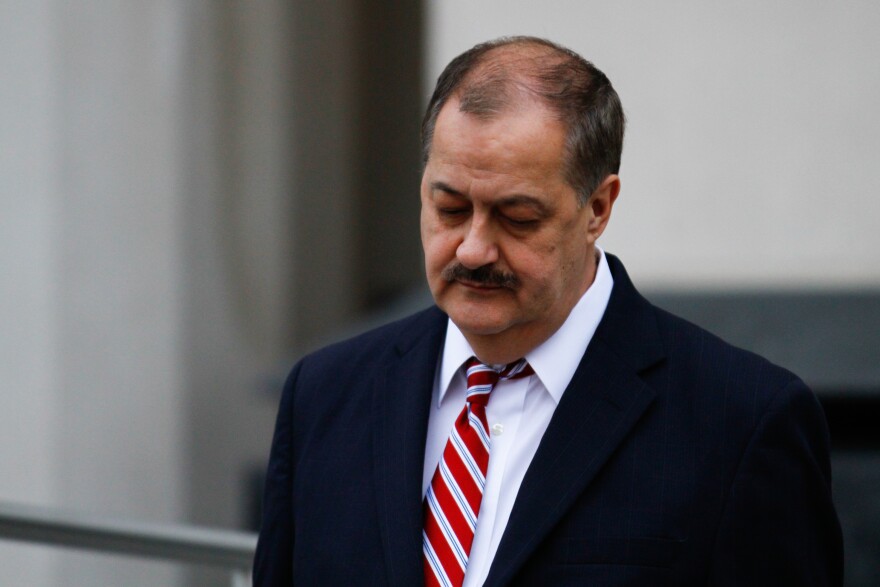 Editor's Note: This is a developing story. Please be sure to revisit this post for the latest. This post was last updated Wednesday, November 29, 2017 at 7:22 p.m.
Former Massey Energy CEO Don Blankenship is running for U.S. Senate as a Republican. Blankenship served one year in federal prison for conspiring to violate federal mine safety standards in the wake of an explosion that killed 29 miners in April 2010.
The Federal Election Commission and the Senate Office of Public Records had yet to receive Blankenship's filing as of 5 p.m. Wednesday. However, West Virginia's Republican party chairman Conrad Lucas as well as Greg Thomas, a representative for Blankenship, has confirmed the filing. Thomas said filings with the FEC were being made Wednesday.
Candidates for U.S. Senate are required to file on paper by mail or in person through the Senate Office of Public Records, according to that office. Electronic submissions -- by email, fax, etc. -- are not allowed.
Thomas said Wednesday he is not acting as campaign manager and Blankenship has yet to appoint one.
"There are no traditional roles in a non-traditional campaign," said Thomas by phone.
Blankenship's motivation to run for office is "about getting the truth out about [Upper Big Branch] and exposing a government cover-up," said Thomas. For months, Blankenship has paid for advertising on television and online that attacks former President Barack Obama, U.S. Senator Joe Manchin and the federal Mine Safety & Health Administration regarding UBB.
Thomas said a continuation of that advertising campaign will roll out this week following Blankenship's announced run for Senate.
Blankenship was convicted of conspiring to violate federal mine safety standards, a misdemeanor, but acquitted of making false statements to investors and the Securities Exchange Commission in the wake of the disaster.
After serving the one-year sentence, Blankenship lost an appeal in federal court and then took his case to the U.S. Supreme Court, which decided not to hear his case.
Investigations from state and federal agencies blamed the deadly explosion at UBB on poor safety practices, including excessive coal dust, inadequate ventilation and worn out equipment.
Blankenship will face West Virginia Attorney General Patrick Morrisey and Congressman Evan Jenkins in a Republican primary in May 2018. The winner of that race is likely to face Manchin, who is set to square off against newcomer Paula Jean Swearengin in the Democratic primary.
Following news of Blankenship's bid for Senate, Manchin's campaign manager, Grant Herring, released a statement, but did not mention the former coal executive by name.
"Joe Manchin is focused on working in the Senate for West Virginia families, not campaign politics. He won't be distracted by Mitch McConnell's backroom deals in Washington, D.C."
West Virginia Democratic Party chair Belinda Biafore took a similar tack, referencing U.S. Senate Majoity Leader Mitch McConnell in her response to Blankenship's run:
"It looks like Mitch McConnell recruited Don Blankenship to use his dirty money to attack Joe Manchin and distract from the nasty Republican primary," Biafore said in a news release. "It's shocking that even Don Blankenship would accept a backroom deal like this from McConnell."
Morrisey tweeted the following statement:
fighting for the unborn, protecting gun rights, and ridding the state of this terrible opioid epidemic. (2/2)

— Patrick Morrisey (@MorriseyWV) November 29, 2017

Campaign representatives from Evan Jenkins have not yet released a statement on the matter.
According to federal court documents from August, Blankenship is under supervised release from his one-year sentence and resides in Nevada.