Medical Marijuana Bill Bypasses Committee Process in W.Va. House
A senate bill to legalize medical marijuana in the state is being fast-tracked through the West Virginia House of Delegates. Senate Bill 386, which passed out of the state Senate Wednesday night on a 28 to 6 vote, would create the West Virginia Medical Cannabis Act, legalizing medical marijuana in West Virginia.
The bill creates a 17-member commission in the West Virginia Department of Health and Human Resources to oversee the program and write rules for legislative approval. Certain illnesses like post-traumatic stress disorder, chronic pain, or seizures could constitute a doctor prescribing marijuana under the bill. Patients with a prescription would also be able to grow up to two plants for personal use. The medical cannabis program, however, wouldn't begin until July 2018.
In an evening floor session Thursday, delegates took up the Senate message notifying the House of the passage of the bill.
Delegate Mike Folk, a Republican from Berkeley County, made a motion to have Senate Bill 386 bypass the committee process and be brought immediately to the floor on first reading.
Several delegates spoke in favor of the motion including Republican Charlotte Lane of Kanawha County, who criticized House leadership for being unwilling to run the bill.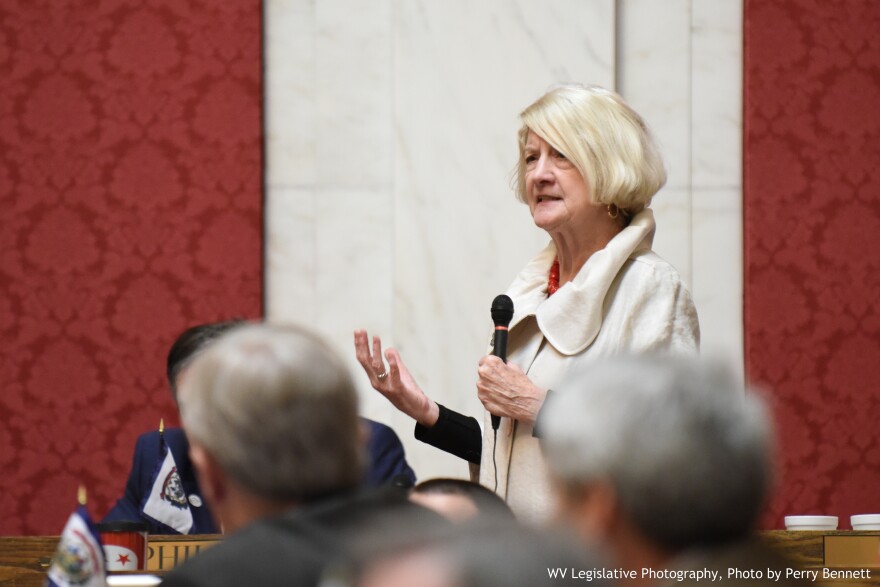 "It has become clear to me that my bill and other bills are never going to see the light of day," she said, "and for those of us who have sick friends who want medical marijuana to ease their suffering, this is our only chance. I don't know about you, but I spent the afternoon listening to all of my phone messages, and these were from people saying support medical marijuana."
Earlier in the session, Democrat Isaac Sponaugle of Pendleton County tried to amend another bill to remove marijuana from the list of Schedule I drugs in the state. Schedule I drugs are classified as illegal with no medicinal benefit and include drugs like heroin and cocaine.
Sponaugle explained his amendment had been the first step in the process to make marijuana legal to prescribe in the state, but that motion was defeated in the House, because delegates argued the proposal hadn't been vetted in the committee process.
But Senate Bill 386, Sponaugle says, has been.
"This bill passed out of the Senate, 28 to 6. It was vetted in the Health committee over there; it was vetted in the Judiciary committee over there," Sponaugle noted, "This body, several weeks ago, made an amendment to lower Schedule I to Schedule IV. You stuck with your leadership team, and how many of you all got beat up for voting red? You're not going to get another vote on this if you don't vote today; I'm just gonna tell ya. It's going to get buried in these committees, and you're gonna be on the board voting against medical marijuana twice."
Delegate Joe Ellington chairs the House Health Committee, which would have likely been the first to see the bill in the chamber. He encouraged members to trust him to get the bill on his committee's agenda.
"I am willing to put it on the committee. I'll run it," Ellington said, "I don't think the Speaker's going to have any objection to that. I promise I'll put it on the committee agenda, so you know, it's up to you if you want to go through the normal process. I've heard members from the other side won't try to discharge bills before talk about how important the process was to go through the committee process. You know, we can decide if we're gonna be hypocrites or not. I'm willing to put it through the committee process, and then we can go from that."
House Judiciary Chair John Shott of Mercer County says not giving the bill time in committee would not be doing West Virginians any favors.
"We would have this bill on Second Reading tomorrow if this motion's passed. Second Reading. It is now almost 7:00 p.m. How long do you have to prepare your amendments for tomorrow? How long do you have to even read this bill tonight and learn what's in it? It is a complicated issue, and we need some time to do it right," Shott explained.
Republican Delegate Mike Folk, who made the motion to bypass the committee process, commended the Senate's work on the legislation.
"The most important thing you need to know about the bill, to allay any fears you might have, is the effective date for that bill is not even until July 2018, most of the stuff; sets up a commission to study so to develop the rules and regulations to address any concerns that anybody might have," Folk said, "You can feel confident that there will be a structure in place in this bill."
After an hour of debate, Folk's motion passed 54 to 40, and the bill was read a first time on the floor. It will be on second reading Friday, and could see a final vote as early as Saturday.