First Class of D&E's Appalachian Ensemble Program Shines in National Spotlight
Last week, Davis and Elkins College graduated its first class of students that includes members of its touring string band and dance ensemble. The Appalachian Ensemble works a lot like a college sports team- the players, in this case musicians and flatfoot dancers, earn scholarships.
One of the graduates is 22-year-old banjo player, Kaia Kater, who was recently featured by Rolling Stone Magazine as one of the 10 New Country Artists You Need to Know.
The other graduate is 24-year old Scotty Leach, who plays fiddle and piano. Five years ago, he was living in Centralia, Washington. He played in a local contra dance band, and he loved it. But he didn't feel content. "I didn't have a plan to go to school, and I remember thinking one day, I was sitting in the house I was renting, and I felt like I was headed in a downward spiral, like my life had no purpose or meaning or direction or anything. And I thought...this is bad."
So then, a very strange thing happened. The president of a small liberal arts college in West Virginia visited and invited Scotty to attend his school -- with a scholarship. He was one of three performers Gerry Milnes and Buck Smith recruited to Davis and Elkins College for the first year of the Appalachian Ensemble program, in 2012.
Kaia Kater came from Canada. She and Scotty brought very different styles to the program. A third student named Rebecca Wudarski- who ended up leaving the college after a few years- was the only native West Virginian in the band that first year.
The first time they ever played together as a band was in Thomas in 2012. A crowd gathered around the three young musicians as they played an informal jam.
"Even through the anxiety of like are we gonna get along as friends, I think that moment was really when musically we were gonna be ok," said Kaia.
Their sophomore year, a new group of dance students started at D&E. In addition to West Virginia tunes, the string band learned new music that would showcase the dance students.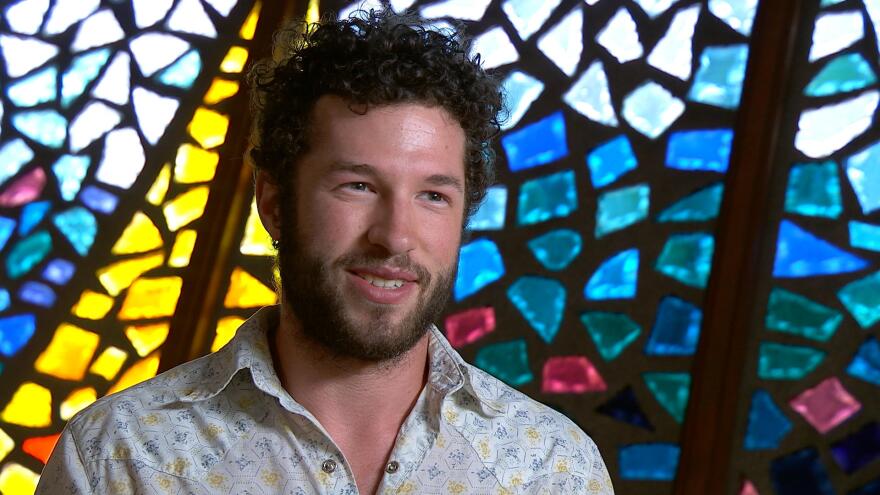 Scotty says he thinks the program will continue to grow and adapt.
"I'm curious what this will be like in ten years. You know, after several cycles of students are have gone through it, I'm curious what the repertoire looks like. We have some Duke Ellington now. Gerry would have never let us do Duke Ellington the first year."
https://www.youtube.com/watch?v=TZsMDMbf2Oc
Gerry Milnes retired a year after Scotty and Kaia started at D&E.
As an folklorist of a different generation, he says the break from traditional old time music was something that was tough for him get used to.
"Things move along and things change, and even traditional music changes, it's never been really static, it's changed through time, and it's never gonna change, so I have to realize that it's a new generation and a new time, and I have to understand that."
https://www.youtube.com/watch?v=joMOYkrmQYU

And the Ensemble's style of fusion Appalachian music has helped bring a lot of attention to D&E. Four years later, the program has grown. There are now 13 students in the Appalachian Ensemble. The college invests in the program in the same way that other schools do for athletic teams.
Scholarships average about $7,000 per year, though the amount varies for each student.
The students tour across Appalachia, performing at schools and festivals. It hasn't been cheap for the college, which has fewer than 900 students enrolled.
The Chair of Division of Fine and Performing Arts, Tom Hackman, says the Ensemble has helped the college do more outreach and branding. "I don't want to say that it's paid for itself, but it's been worth it from the college's standpoint. It's something unique, and a lot of small liberal arts colleges, we have to embrace our uniqueness. We have to look at, you know, these are things that we do that are different from everyone else. And a lot of people here on campus recognized very early on that that was the case with the Appalachian Ensemble, that no one was doing something exactly like this."
As for Scotty and Kaia, they both say they have a lot of bittersweet emotions this week- after they played their very last performance as D&E musicians.
This summer, Scotty will be staying in West Virginia to work at the Augusta Heritage Center. After August- he's not sure what his plans will be.
Kaia Kater will be touring in Canada and the United States to promote her new solo album, Nine Pin. On the sleeve of the CD, Kaia says: "Thank you to Scotty Leach, we've been everywhere and back again."