Little Free Libraries Popular in Huntington
Huntington is just the latest city in the state to catch on to the Little Free Library Trend. It's a new fad that's changing communities and reading habits.
Matt Lockhart is a lawyer in Huntington who decided in late spring and early summer he wanted to put a Little Free Library in his yard.
"This one is a little interesting, fashion accessories, the complete 20th century source book. And a bunch of little kids books like beaty bear, there was some Dr. Seuss books in here the other day," Lockhart said. "When I saw the idea of a little free library I thought that would be a great thing to do, to put in our backyard to kind of bring back a sense of community to this area."
Lockhart saw one other one in Huntington and decided he wanted to see what it would do for his community and what it could mean to kids in the community.
"Our number one goal with it was to just simply bring a smile to people's faces, whether it's parents or kids," Lockhart said. "It's really kind of turned into a, it's put a smile on our faces because we'll look out the back window and see a mom with two kids and a stroller. It really kind of restores your faith in humanity."
What's a Little Free Library? It's a structure that's not unlike a large mailbox that sits in the front yard. But it's larger and built to look like a little house. You're free to leave books or take others. It's an honor system that allows for all ages to take books home and read them. Books range from ones parents read to small children, to the newest Harper Lee novel. It's all part of an effort Lockhart said has served a dual purpose, building community and making reading fun for kids.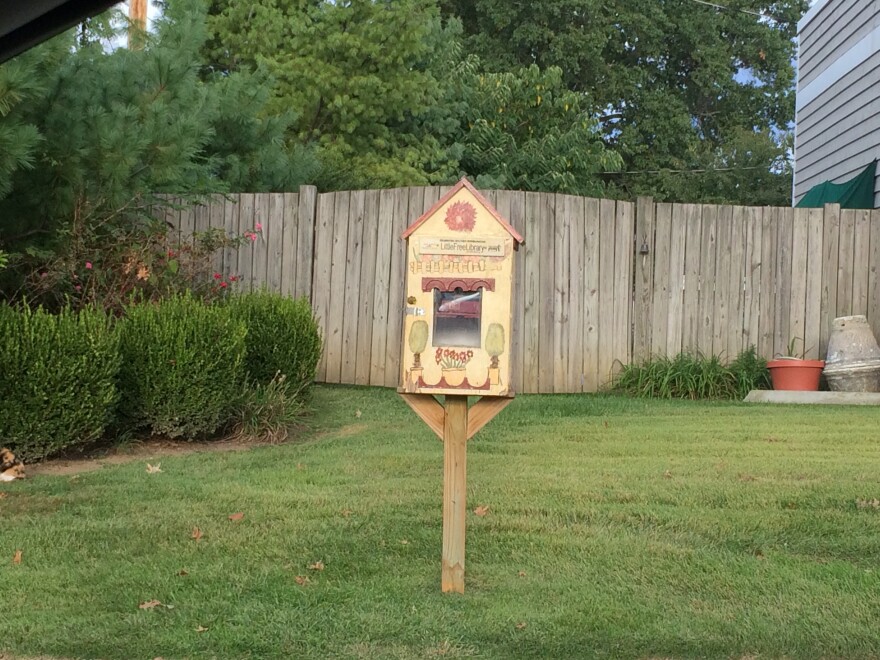 "This lady came up with a little boy, she was pushing him a stroller and she said 'I just want to thank you so much for putting this up here, we go on a walk every day and exchange a book, and while I'm walking, he's sitting in a stroller reading a book," Lockhart said.
Jonas McNearney lives a few houses down from Lockhart and his Little Free Library on 1st street and 12th ave. He's got three children and said the library is something his kids look forward to every week.
"It's really cool because of the fact that we get to get them involved with the community and exchanging books with their friends in the community and meeting new people in the community," McNearney said.
Todd Bol is the executive director of LittleFreeLibrary.org and the man with the original idea of putting a small building in his yard in 2009. His organization sells Little Free Libraries for folks who can't build their own Bol encourages people to join his organization, paying $40 to be placed on a national map along with other Little Free Libraries. And members received a placard to place on their Little Free Library to signify they're part of the group. With over 32,000 Little Free Libraries around the globe, Bol said they're bringing communities together all over the world.
Making reading cool and interesting is something Tri-State Literacy Council Director Megan Shoub said is a great added benefit of the little libraries.
"One of the best ways to address literacy issues in the future is to make sure kids have those skills now," Shoub said. "If we can get kids excited about reading and interested in learning and make that something they do for fun and it's readily accessible to them, not every kid can go down to a library on their own."
Elizabeth Sheets and her husband Scott put a library in their yard and in front of their daughter's school at St. Joe Elementary.
"In today's world of technology and people are going to iPads and Kindles, I still want to hold a book and I'm hoping the children can still have that feeling of holding a book and opening the pages and looking through it and learning at the same time," Elizabeth Sheets said.
Little Free Libraries exist all over the state from Lewisburg, Athens and Williamson to Logan and Morgantown.