Augusta Heritage Center Refocuses on Arts, Crafts
The Augusta Heritage Center is known around the world for its many music workshops and jam sessions. But Augusta actually started as a way to keep traditional arts and crafts alive in Randolph County.
"Well, it's gonna be a rabbit in the end," Dorothy Steinbrueck said as she was chiseling away on a piece of alabaster stone under a hillside pavilion on the Davis & Elkins College campus earlier this week. She was surrounded by rock chips as she concentrated on the task at hand.
"So, I started out with a pretty square stone and I've got some features that I kinda have to work with and one is that I've got a ridge here. So I'm trying to kinda incorporate that into one of the ears."
Steinbrueck and her husband travelled to Elkins from Friedheim, Missouri, for the Augusta Heritage Center's arts and music workshops.
Steinbrueck's instructor for the week was Kevin Stitzinger. He's a stone artist who lives in Pocahontas County, near Greenbank. It's the first time Stitzinger has taught at Augusta, but he used to live in Elkins and work at the college, so he's very familiar with the workshop series.
"So, you know, well-versed in the idea, the feel of Augusta and was just really excited when they offered me the chance to come out and teach," Stitzinger said.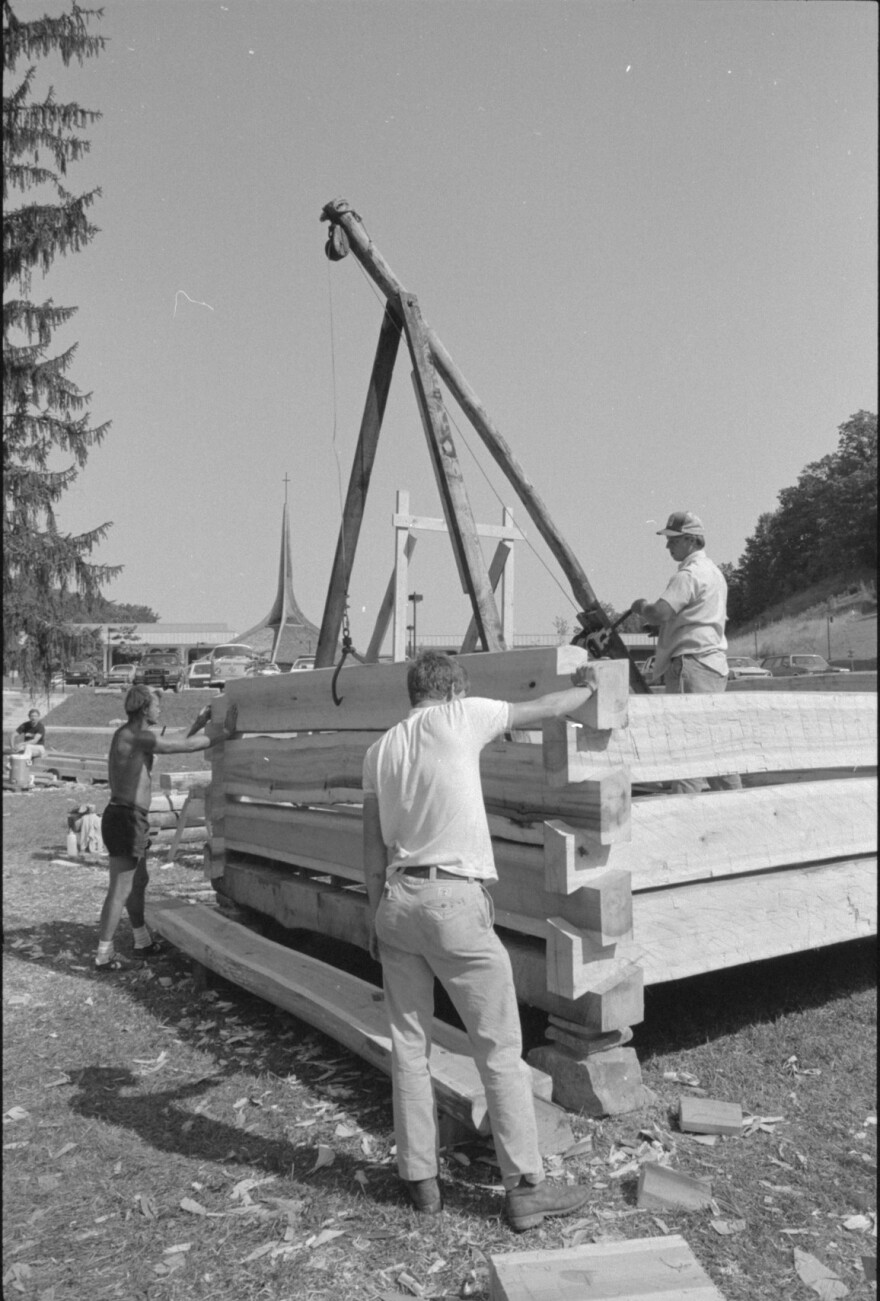 Augusta's Roots
The roots of that 'Augusta feel' began growing 42 years ago. While many people associate Augusta with traditional music, Brittany Hicks says arts and crafts have been at the center's core since it began in the fall of 1972.
"A group of local leaders were concerned that our craft traditions were dying away and they wanted to pass it on to the next generation," she said.
Hicks is the Augusta Heritage Center's program coordinator. She wrote her master's thesis on the center's history.
"So they primarily started Augusta as a craft program," Hicks said.
She said that as the center's music workshops became more popular during the 80s and 90s, people didn't notice the crafts as much. Now, Hicks said, the center is trying to bring art back into the spotlight.
A Living Tradition
She said it's important not to think of our heritage only in terms of museums and books on shelves.
"We're not just about preserving a tradition. A tradition is not a static thing, tradition is a changing thing. It's a living tradition, so as you pass it from one person to another, it's going to change and evolve and the idea is to share it with the next generation," Hicks said.
To fulfill that mission, Augusta offers a variety of craft and art-related classes during its five-week summer program — everything from the stone carving we heard about earlier to blacksmithing, printmaking and fine arts like drawing, sculpting and painting.
"I consider the fine arts to also be heritage arts as well," Michael Doig said. He's the assistant professor of art at Davis and Elkins College during the school year, but this summer he's serving as Augusta's arts and crafts coordinator.
"Music is certainly something I support and it's one of the things that has brought me here and kept me here for many years. We just want to give the visual artists an experience and feel that they're being take care of paid attention to as well."
Augusta Festival
The summer workshops culminate in this weekend's Augusta Festival, which includes a fine arts show on Saturday, Aug. 8, in the Elkins City Park. More than 50 regional artists will be selling everything from one-of-kind wood and stone carving to jewelry, painting, photography and much more.
Many of Augusta's instructors will have their own work for sale at the show this year. Doig says that offers the students an education beyond just learning a particular craft.
"Not only are they coming in and learning how to make something, but we want to teach them how to sell that thing, you know, how to put their best foot forward when they're trying to get their product to the market," he said.
Augusta is bringing arts and crafts to life on Saturday through several demonstrations, where people can watch the artists at work and try things out for themselves.
"They'll get to see the process, like the tintype photography," Hicks said. "Lisa Elmaleh, the photographer, is gonna show people the camera, she's gonna take a photo and they'll get to watch as she processes the image and see how it works."
Hicks said the show is free so as many people as possible can take part. The festival is kid-friendly, too. There will be a tent with activities for children of all ages, including painting, crafts and theatre activities.
Back at the stone-carving class, instructor Kevin Stitzinger said he's sold his work at the Augusta Festival for the past five years and is looking forward to doing so again on Saturday.
"When I am at art shows, I thoroughly encourage people to interact with the stone by feel. You Gotta touch it. I get in trouble from parents because they just got done telling their kids not to touch the artwork and I'm like, 'Get in there, you know, you're gonna love it,' " he said.
As this summer's workshop series draws to a close this weekend, it's obvious that artists like Stitzinger are helping Augusta keep Appalachia's heritage alive and well.
Andrew Carroll and Stacey DaBaldo contributed to this story