Investigators: Transporting Bakken Crude Still a Challenge for Railroads
On Sunday, the U.S. Department of Transportation's Federal Railroad Administration announced that its full-scale forensic investigation is now underway in earnest, following last week's train derailment.
Federal Investigators say it could be weeks before we know what caused the CSX train to derail last Monday.
What is known is that the train was traveling 33 miles per hour (well under the speed limit) when tank cars derailed as they were passing through a Fayette County community called Adena Village.
Nobody died as a result of Monday's derailment, although there was one very close call. 68-year-old Morris Bounds had a very narrow escape- as the exploding flames overtook his home. He suffered smoke inhalation and lost everything he owned.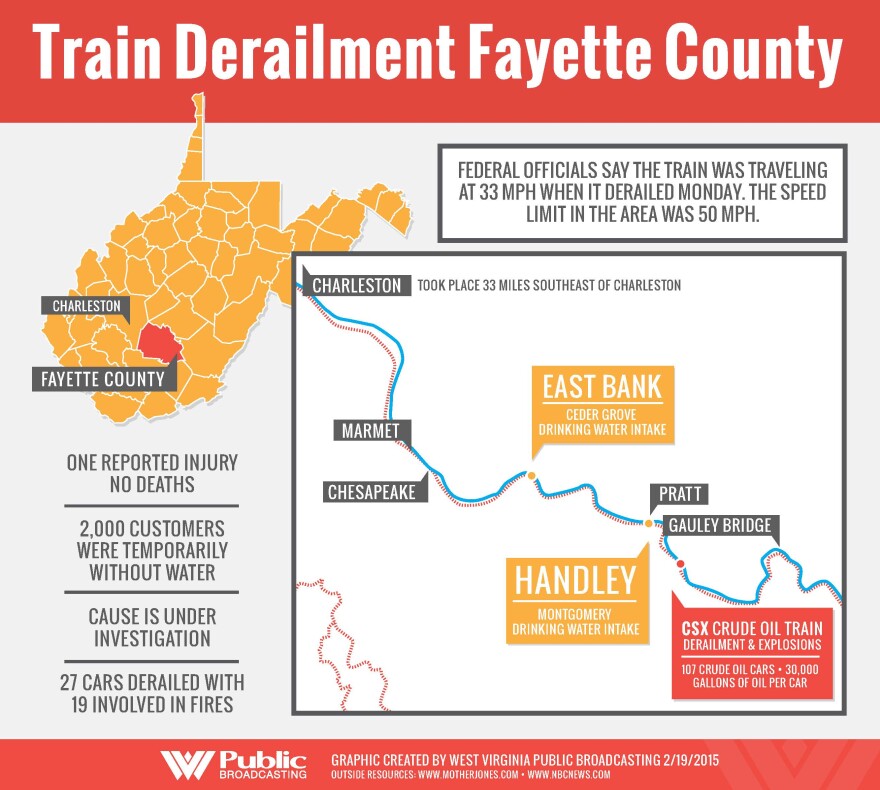 "CSX will fully compensate Mr. Bounds for any of his losses," said CSX representative Skip Elliott.
Mr. Bounds' neighbors and those in the nearby community of Boomer Bottom were all forced to evacuate their homes last week. They were allowed to return Friday, with the exception of 5 homes immediately next to the site of the derailment.
The Federal Railroad Administration is in charge of investigating the cause of the incident. Sarah Feinberg is the acting administrator and says the train that derailed was transporting about 3 million gallons of a hazardous unrefined oil from South Dakota.
"The crude oil that comes out of the Shale Play in North Dakota is very volatile, very flammable. It's a lot more like gasoline or jet fuel than anything else," Feinberg said.
Feinberg says the United States' push for energy independence is creating new obstacles for the Department of Transportation.
"Some of these challenges are very new to us. How do you move that product from North Dakota to the refineries on the coast?" said Feinberg.
Last week's accident comes on the heels of a series of train disasters involving the transportation of Bakken Crude, including one along the same route in Lynchburg, Virginia last April. The National Transportation of Safety Board has been investigating that incident, but the findings aren't expected until this summer.
Sarah Feinberg says her agency is working to find safer solutions that would prevent these types of accidents in the future.
"It's not just coming up with a better tank car, for transporting this product, but we're also looking at how the train is operated. One of the most important things we can look at is breaking systems, to make sure that they are stopping and the cars are not piling up on each other, as they did in this case."
After last week's accident, tank cars were still smoldering until Thursday night.
Dennis Matlock, with the U.S. Environmental Protection Agency, says first responders made the decision to let them burn out on their own.[They] "initiated a controlled burn, which was a safer option to do anything at that point, it really engulfed a big area. Particulate matter from the burning was probably the number one thing we're concerned with. A big constituent of this material is Benzene."
Matlock says nobody was exposed to any harmful amount of Benzene, but this is one of the reasons fire crews had to use caution and give the fire some distance.
None of the tank cars went into the Kanawha River as was initially reported, although an unknown amount of crude oil did leak onto the ground and may have entered Armstrong Creek.
The EPA has confirmed that as ice melted Sunday morning, a small amount of oil entered the Kanawha River. However, ongoing containment strategy and water monitoring has confirmed that there's been no impact on drinking water or public safety.