Staging the Auction to Sell the Collection of a Lifetime
More than fifty years of marriage… plus two international performing careers… plus a shared passion for seeking out eclectic and interesting objects… adds up to one remarkable collection. World-famous opera singer Frances Yeend and her husband amassed just such a collection. It'll be auctioned off starting this weekend at the Sagebrush Roundup near Fairmont.
Frances Yeend spent her twilight years in Morgantown, but earlier her strong soprano voice graced stages and major concert halls around the nation and the world during the 1940s, 50s and 60s. Her husband, James Benner, also traveled far and wide as an accomplished accompanist and voice coach.
In a 2002 interview for West Virginia Public Television's series Aging With Grace and Dignity, Yeend expressed her love for world travel.
yeendmixdown.mp3
Listen to the audio from the Aging With Grace and Dignity series interview with Frances Yeend and James Benner.
"I love going places," said Yeend. "I've always loved going in different places in the world. Italy and France. Germany. All those places. I've been to all the different ones and I've enjoyed them very, very much."
During their travels, she and her husband began to amass an incredible collection of antiques and books. In the late 60's they gave up living out of suitcases and left New York City to join the music faculty at West Virginia University.
Their collection came with them to Morgantown…and continued to grow.
(Frances Yeend and James Benner perform in a 1988 recital. She was 75.)
Yeend passed away in 2008 and Benner, faced with some health issues, is downsizing into a small apartment. The time has come, he says, to sell the collection.
It's hard to suddenly say it's all going to go. - James Benner
"I've tried to make my mind set as rigid about getting rid of things as I was about collecting them, back when I was collecting them, in my pack rat stages so to speak," says Benner. "But it's a big emotional upheaval to get rid of all these things which we both loved so much and collected over so many years."
Benner says his relatives live far away. They've had the chance to come and select the things they would like to have. But he didn't want his family to have to figure out what to do with the rest of it later.
"I had been negotiating somewhat with auction houses in New York for the museum quality stuff," says Benner. "But it's so expensive and so difficult to get the things there, and I would still be stuck with everything that's in the house."
Enter West Virginia auctioneer Joe R. Pyle, stage left, wearing his trademark cowboy hat.
Yeend and Benner attended many of Pyle's auctions over the years. He said they were among his best customers. Now his role is to survey the contents of their entire home and prepare the collection for sale.
"When you look at the inventory of this house," says Pyle. "I mean it's…they've been into lithographs, they've been into glassware, Staffordshire, Persian rugs, Asian, ivory, Renaissance furniture, paintings, an unbelievable library of books."
Pyle says there will be between two and three thousand selling lots, with some lots having as many as 40 or 50 items. He and his crew have been working behind the scenes for months. They've spent lots of time with Benner, who says he's been happy to talk about the items he loves.
"I often do remember the particular circumstances of a purchase," says Benner. "Especially if it's a major purchase, because you think a lot before you decide to spend the money on something. And we didn't usually buy things with an idea that it was a good purchase marketwise or anything like that. We bought things that we loved."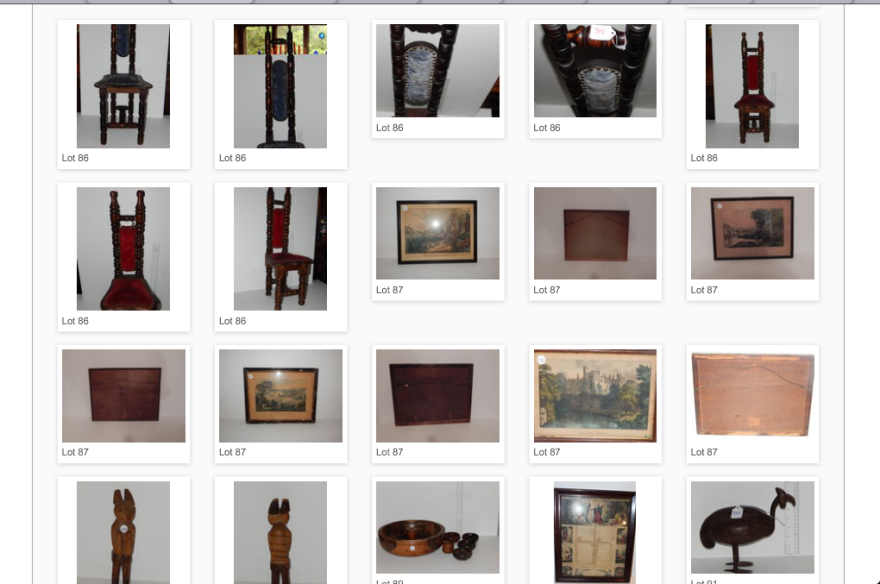 Quirky items sometimes caught their eye.
"One of the most unusual things that's in the sale is a Buddhist manuscript which opens like an accordion kind of, it's almost a foot long – three feet long. And I remember seeing that in a shop in California and thinking every household needs one."
Pyle says there won't be another auction like this around here for many, many years. He says it'll be fun to watch and there will be something there for everybody.
There will be items that sell for $20. There will be items that sell for $30,000. - Joe R. Pyle
The initial auction will take place this Friday and Saturday…with an additional date of October 2, 2014 that will focus solely on the library. At least one – possibly two more auction days will follow later in October.
So, the stage is set.
"We're not going to have an opera, we're going to have an auction," says Pyle. "So, it's kind of, you know, leading up to that, we've put brochures out the same way they put the poster out in front of the Met, you know. And the advertising piece and let everybody know – get there for the show. So it IS the show."