Connecting Veterans and Their Benefits: One On One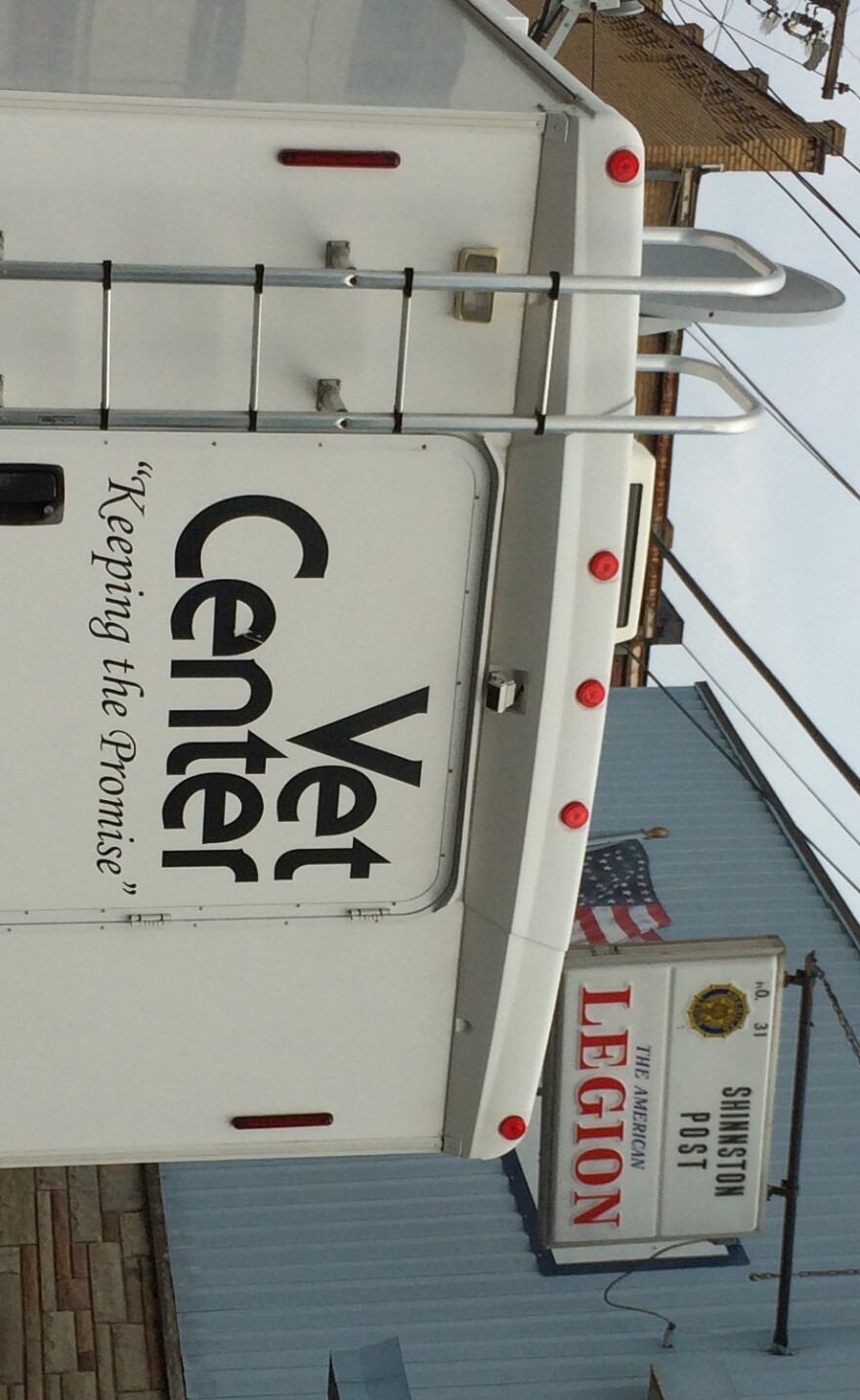 The U.S. Department of Veterans Affairs has been rocked by scandal in recent months, with reports of long wait times and rigged wait lists. But the American Legion has stepped up to say the V.A. is a "system worth saving." As part of that effort, the Legion has launched a series of town hall meetings and set up temporary command centers around the country to help answer questions veterans have about their benefits. The Legion set up shop this week in north central West Virginia.
It's mid-morning and so far there's not much of a crowd inside American Legion Post 31 in Shinnston. A paper sign taped next to the front door states that this is the "Veteran Crisis Command Center Entrance" and lets veterans know they're in the right place to ask their questions and get some answers.
"It's so hard to predict who's going to come, when they're going to come."
That's Zachary Hearn, Deputy Director for Claims for the American Legion National Headquarters. He says there was a healthy turnout for the town hall meeting on Monday and about 35 veterans took advantage of the first day of command center operations.
"I know our director Verna, she made it a point, she said if one veteran walks out of here with benefits that they never saw coming, it was all worth it in the end."
By that standard, this week's efforts have been a success. Hearn says $17,000 in benefits was awarded on the spot to two veterans who came the first day. They will receive retroactive payments in addition to their future benefits.
He says it's a great feeling to help veterans learn about the benefits they've earned.
What it's really proven is how the American Legion and VA should be working together...once we get outside the Beltway and into middle America and really helping veterans on a one on one basis. - Zachary Hearn, Deputy Director for Claims - American Legion National HQ
Hearn says one veteran at an event in North Carolina had been trying for nearly 20 years to get his claim approved. At the command center, it was resolved in about 20 minutes.
But these temporary command centers are only around for a couple of days. These events in some ways have also turned out to be good "train the trainer" opportunities. Hearn says American Legion posts have trained local Service Officers in place to help veterans at other times.
"Well my name is Donna Peter and I am the Service Officer for both Post 67 at Sistersville, West Virginia and for the Fourth District which includes, if they were all active, 13 different posts."
Donna Peter drove over to Shinnston from the Ohio Valley to learn more. She says she is new to her job of Service Officer and found the information and outreach very helpful.
"It'll give me information where I can send people or like your suicide prevention and things I'll know somebody to send them to for help," says Peter.
Improved Communication is the Key
Both Peter and Hearn agree that communication between the V.A. and veterans needs to improve.
Peter says she's heard from some vets that they got very little instruction about their benefits before being discharged. But she also says it is human nature to not soak everything in, even when told. She and her husband were connected with the Air Force for 20 years.
"When I got out we had told people what to do but you don't know if they're listening," she says. "You have family meetings on base and you try and let people know what to do when they get in the civilian world but you go to those things and you're bored to death and you don't listen like you hope they would."
Another breakdown involves the complicated nature of the benefits themselves. Hearn says the process can be complicated and tough to navigate. For example, he says veterans don't always realize V.A. health care and V.A. disability benefits may intersect at times, but are two very different things.
So, the outreach efforts will continue with hopes of helping veterans and restoring confidence in the system.
"People have gotten lost in the process," says Hearn. "People's claims have been adjudicated improperly and the American Legion has been very dedicated to make sure that those veterans receive those – that compensation that they've earned."