Officials Answer Questions About W.Va. Water Crisis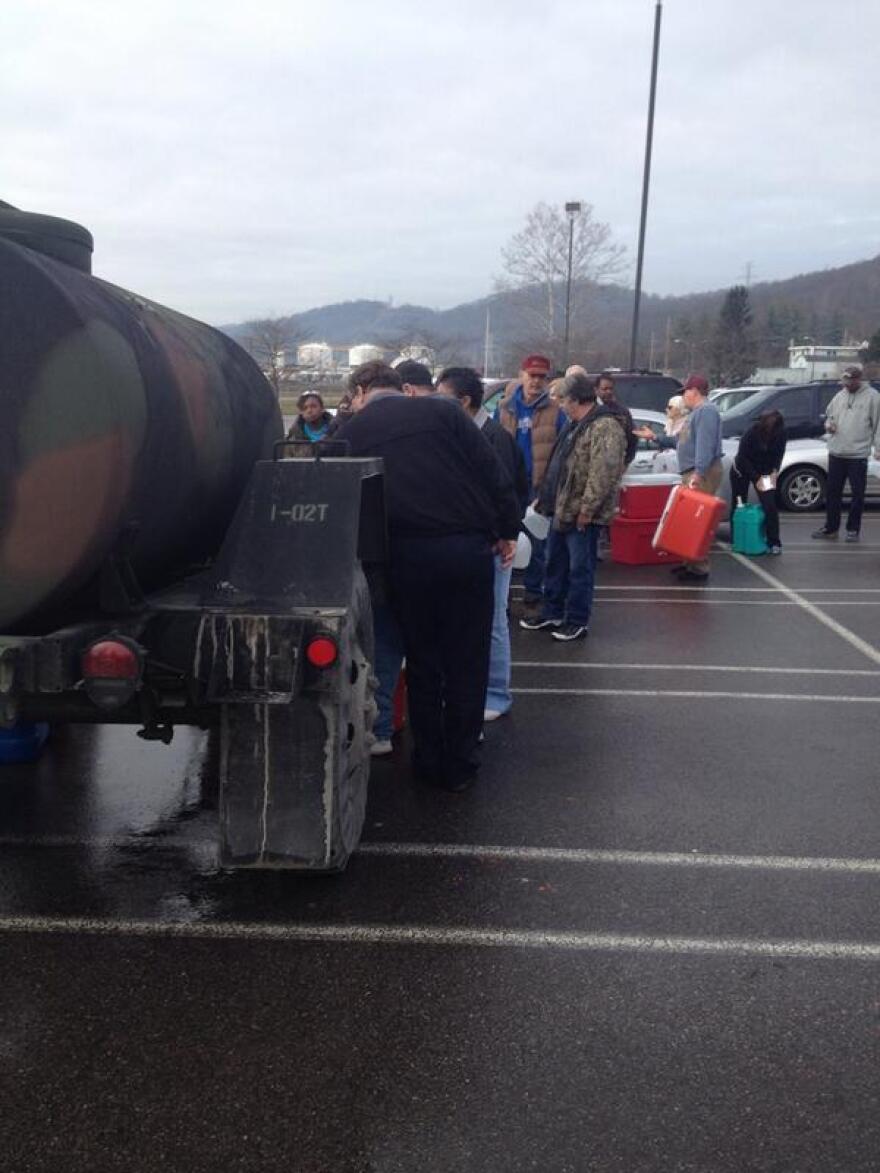 Gov. Early Ray Tomblin's office released questions and answers Saturday afternoon from a community conference call he hosted in which Dr. Letitia Tierney, Commissioner for the Bureau of Public Health and the State's Health Officer, and Adjutant General James A. Hoyer provided answers to questions submitted by community members.
Are you (Dr. Tierney) using the water?
Initially when I flushed my house, I did not detect any smell. Throughout the next couple of days, I did detect a smell. I have used it for drinking, bathing, and cooking and as of today, I'm no longer detecting the odor in my home.

Why do I still smell licorice even though I've flushed my water lines?
MCHM has a low odor threshold-meaning you can smell MCHM at 100,000 times the no observable adverse effect level.
Will we continue testing? At what levels?
We will continue testing until the system has been sampled and tested at 1/100 parts per million-a level well below the CDC recommended threshold for public health. The CDC provided information that it believes there is no evidence to suggest that water levels below the laboratory limit of detection of 10 parts per billion (1/100 parts per million) would have adverse health effects, including for pregnant women.
Why is the water unsafe for pregnant women to drink but considered safe for everyone else to consume?
Doctors routinely advise pregnant women to avoid consuming a number of things-including caffeine, alcohol, raw or undercooked meat, unpasteurized dairy products, luncheon meats and hot dogs. Fetal cells are continuing to develop, which is why pregnant women have been encouraged to continue drinking bottled water until there are no longer detectable levels of MCHM in the water distribution system.
I'm breastfeeding, can I drink the water?
I (Dr. Tierney) understand your concern. This was taken into account concerning the safety factors provided by the CDC. Short-term exposure at these levels is not likely to cause any adverse health effects for children or others. If you are concerned check with your physician, and feel free to use bottled water as this is a personal decision.
Can children under three years of age consume the water?
The CDC provided information that they believe there is no evidence to suggest that water levels below the laboratory limit of detection of 10 parts per billion (1/100 parts per million) would have adverse health effects, including for pregnant women. Children were considered in these guidelines. Short-term exposure at these levels is not likely to cause any adverse health effects for children or others.

What is causing the burns/rashes and emergency room visits, if people are using "safe" water?
We've been monitoring everyone who has presented to the hospital, and what they've been complaining of is not a burn like you and I would think of as a burn. Some doctors have described it as a "solar burn" which is similar to sunburn. Basically, it's red skin. Everyone has different sensitivities and as we move through the flushing process, sediment has been stirred up from your hot water tank and the pipes. Some sediment may be coming through the shower that you don't even see. Because everyone has different sensitivities, some may be experiencing this and some may not. These are topical only. They're short-lived. They are easily treated with over-the-counter products. I would advise anybody who is seeing this type of reaction to speak with your physician. They won't last. Once things settle down, these symptoms will go away.
Are there known risks associated with this chemical mixing with household
cleaners?
No. Household cleaning can continue normally.

Is this water harmful to my pets?
Per the Department of Agriculture's press release: State Veterinarian Dr. Jewell Plumley said Friday afternoon, after continuing to seek consultation and advice from toxicologists and animal experts from across the country, there are no known risks to livestock that may have been exposed to the water.

How has the chemical spill impacted fish and other aquatic life?
DNR is coordinating with all appropriate agencies to monitor any potential impacts to aquatic organisms resulting from this chemical spill. The Wildlife Resources Section has had staff on site and has not observed or received any reports of dead fish at this time.

Will grey water from the affected West Virginia American Water systems have a negative impact on surrounding districts?
(Grey water sewage and flush water) Sewage goes to a treatment plant to be treated. Because Total Organic Carbon is measured and regulated, the treatment plant must notify DEP if unsafe levels of MCHM are present. At this time, there are no reports of unsafe levels. Following treatment, the water is sent into rivers and streams where any MCHM is further diluted into non-detectable levels. In the case of flush water, it is again diluted into non-detectable levels. There is no cause for concern for surrounding water intakes bringing in water at unsafe levels.

Does MCHM adhere or leech into plastics?
MCHM may temporarily adhere to plastic pipelines which could result in a lingering licorice smell for some time. The chemical is such that you can continue to smell it, even at 100,000 times below the no observable adverse effect level.

Are water distribution sites still available? If so, where and for how long?
Water distribution sites are still available and will continue to be available well into next week. In order to determine where and how long these sites will remain in effect, it's important for you to reach out to
your county emergency management office. Please note, the counties adjust and change distribution points based on need and availability. To find a water distribution location in your area, contact your local emergency management office.
I experienced nausea when I flushed my pipes, why is this?
It is important to remember we have old pipes, new pipes, copper pipes and iron pipes-flushing is causing the sediment to be stirred up. Even small amounts of copper can cause people to feel sick to their stomach and can make people vomit. This will not continue. It is a result of the flushing process.

Why are so many people going to the hospital?
There are a couple of reasons-we're in the middle of flu season and virus season. Many of us haven't been able to consistently wash our hands with soap and water. While the sanitizer is good for cleaning, it isn't great for eliminating a virus. Some people are getting these viruses, as many people do every winter. In addition, a lot of people are getting very anxious. Anxiety is a real diagnosis and it can be really hard on people and its okay to be seen by a health professional to ensure you're okay. The flushing process may have caused the side effects as noted above. Also, the number of people who have been seen in hospitals is a very small number of people as it relates to the affected population. No one has been seriously ill. No one remains hospitalized.
Will there be any future legislation presented to protect the integrity of our water?
Gov. Tomblin directed his legal team to work with the DEP to draft legislation to help prevent this type of crisis from happening again and anticipates introducing a bill next week. This legislation will: empower the DEP to implement an above ground storage tank regulatory program; require above ground storage tanks to be constructed and maintained in a safe manner; ensure public water systems have proper contingency plans in place to prepare for emergencies such as this; and requires public notice to affected municipalities, counties and the general public concerning regulated above ground storage tanks. The governor anticipates submitting this legislation to the Senate and House of Delegates early next week.